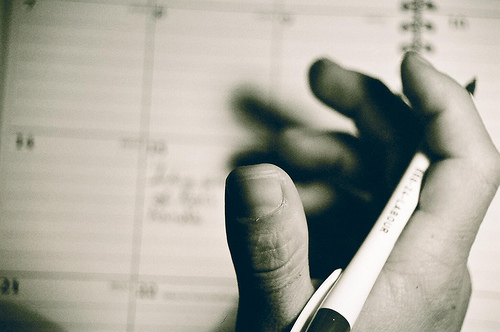 Image Copyright Futuristic FunkaHunk from Flickr
I have been sitting here all morning reading blog posts and crap from around the net.  I am having a hard time focusing on writing.  I need more sleep.   Jefferson Airplane is good tunes to write to.
Today, I have several things that I simply must get done.  I have been running around to various functions, doctors appointments and Transplant Clinics since Saturday.  As a result, my house is falling apart!  You may have read my stay at home dad stuff before, so that is why it is my responsibility to get it back together.  I am home to do it.
And then the Hooters come on.  And We Danced is one of my all time favorite songs.  See that is what today has been.  distraction after distraction.  Music is off.
Back to my point.  I don't know if I ever made it but, Prioritizing must be important because there are over 2,480,000 entries on google about it.  I am not good at prioritizing but maybe I should be.
I have the proverbial planner that barely gets looked at.  I have a notecard in my pocket right now with all of the great and fabulous things that I need to do today.  I was conservative and not including making dinner, there were 8 things on my list.
I have done 2 things off of this list.  I guess I should have added Bath 3 year old, play dough with 3 year old, potty training sessions and my list would have been longer with more crossed off.
I look at this list and think all of the things on it should be Steven Covey's number 1 priority.  I however, do not have 12 arms or 2 bodies to accomplish all of these things at once.  So I disregard priorities and  go for sequence.  What sequence can I be most efficient.  I guess dishes come before laundry because they stink.
I should hire a maid but that would mean I need to sell a hell of a lot more articles than I am right now.  So I am going to call this post finished.  For now.  I think I will revisit this topic at a later time.
I am working on the challenge put out on Zemalf's Microblog to write 2 weeks worth of posts to keep in reserve for days like this.  That means 10 posts and not the three I have been working towards.  I am putting it out here and in writing so I will have some accountability and hopefully, will complete this soon.
I am going to write more tonight.  I hope to at least be 1 day ahead at all times.  If I can write tonight what will post in the morning then I can post at the same time each day and that can't be bad right?
Join the fun and write lots of extra posts!  If all else fails you can be like James at the Infopreneur and post 2-3 per day until your supply runs out!
Until later, Cheers
Justin